Fiberglass (FRP) Siding & Roofing Panels
Owners, maintenance, and plant personnel love what Tuff Span™ FRP Panels from Enduro provides.
Eliminating maintenance, reducing cost, and improving work conditions, the fiberglass (FRP/GRP) roofing panels and siding panels offer unparalleled combination of strength and corrosion resistance. With higher reinforcing content, premium resin systems, and extensive UV protection, Tuff Span™ is the optimum cladding panel for challenging, tough conditions.
Our fiberglass roofing and siding panels are available in a broad range of industry profiles and are UL listed and FM approved for use as exterior and interior building panels. With superior corrosion resistance and strength, Enduro fiberglass panels offer long-term architectural benefits.
Enduro Tuff Span™ fiberglass roofing and siding panels are available in a variety of opaque and translucent color options and in two different resin systems, vinyl ester and iso-polyester. We also have capability to match colors of existing materials and offer many non-standard colors not listed here. For a free sample of any particular color, please contact us.
Standard Opaque Fiberglass Panel Colors
Standard Translucent Fiberglass Panel Colors
FRP Panel Light Transmission
Light transmission percentage varies with panel thickness, color, and profile.
| | |
| --- | --- |
| Roofing & Siding Standard Colors | Light Transmission |
| Gray, White, Beige, Shale, Stone White | Opaque |
| Translucent Clear | Up to 80% |
| Translucent White | Up to 50% |
| Translucent Gray, Beige | Up to 40% |
To learn more about our Tuff Span™ fiberglass (FRP/GRP) roofing and siding, please contact us or download the Enduro Tuff Span™ Building Products Catalog.
Fiberglass Roofing & Siding Panel Uses
Roofing & siding for industrial and commercial buildings
Single-skin or insulated systems
Walkable roof options
Cooling tower casing
Enduro Tuff Span™ Fiberglass Roofing & Siding Features
Opaque or translucent panels
Corrosion resistant
Strongest FRP building panels

Superior UV protection

Range of profiles & Colors

FM & UL certifications

Life cycle cost savings

Long, maintenance-free life
Enduro Tuff Span™ Certifications & Approvals
Enduro is pleased to announce that our 12 x 1.25R Series 150 roofing and siding panel has received several important certifications, approvals, and ratings: Florida Building Code approval, UL Class 90 rating, and Texas (TDI) Windstorm approval. The UL Class 90 rating involved UL 580 uplift testing, which required withstanding pressure differential of 105 psf, including positive pressure of 48.5 psf combined with negative pressure of 56.5 psf. These certifications will increase code compliance and usage for this product, which is commonly utilized as daylighting panels in metal buildings.
A Tuff Span™ wall assembly has passed CAN/ULCS-134 Full-Scale Exterior Wall Fire Test, which is the Canadian Test comparable to NFPA 285. The wall assembly complies with Section 3.1.5.5. of NBC 2010 and as a result, over 250,000 SF of panels were installed at a Potash process building. The Tuff Span™ wall assembly, which is also FM approved, is the first FRP profiled building panel to pass this test.
Enduro Tuff Span™ Fiberglass Roofing & Siding Resources
Houston, TX, February 21st, 2023 – Enduro Composites Inc., (ENDURO), a global player in the design,…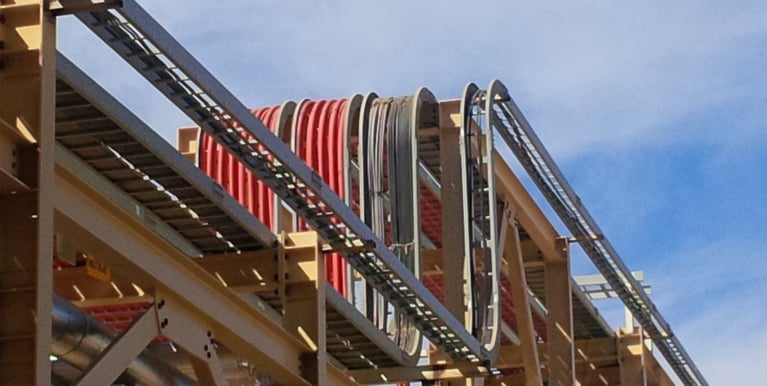 Enduro Composites is pleased to announce two strategic changes in the sales organization. Roy Silvas will…

Enduro Composites is pleased to announce that our Tuff Span 7.2 X 1.5 250 series roofing and siding panels…